The world today
By 2030, 9 out of 10 children living in extreme poverty* will live in sub-Saharan Africa;

In Mozambique, over 50% of children drop out of school before completing primary school and in the north of the country, only 9% of children in grade 3 can recognise the alphabet;

In the north of the country, over 50% of children under 5 years old suffer from chronic malnutrition;

67.5% of children between 6 and 59 months old suffer from anaemia;

In São Tomé and Príncipe, 48% of deaths amongst children under the age of 5 are due to preventable illnesses;

124 million children and adolescents are denied their right to attend school;

Childbirth is the leading cause of death for girls aged 15 to 19 worldwide.
---
Why help?
Girls with 8 years of schooling are 4 times more likely not to marry as children;
Every dollar invested in Maternal and Child Nutrition represents a $30 gain in improved health, education and productivity levels;
Each extra year of schooling generates a 20% increase in income as an adult;
A child born to an educated mother is 50% more likely to survive beyond the age of 5.
---
What do we do
Our initiatives are focused on children's issues, in particular Education, Maternal-Child Nutrition and Health, Humanitarian Aid and Education for Development and Global Citizenship.
Only Community Development can transform a depressed social context. We are committed to improving children's living conditions and the environment in which they live, hence ensuring that future generations benefit from more development and dignity.
Your support does not end with the child you sponsor, but multiplies throughout the school's community.
With your support, children continue to live in their own environment, close to their family, with the possibility of attending school and accessing food and medical care if necessary.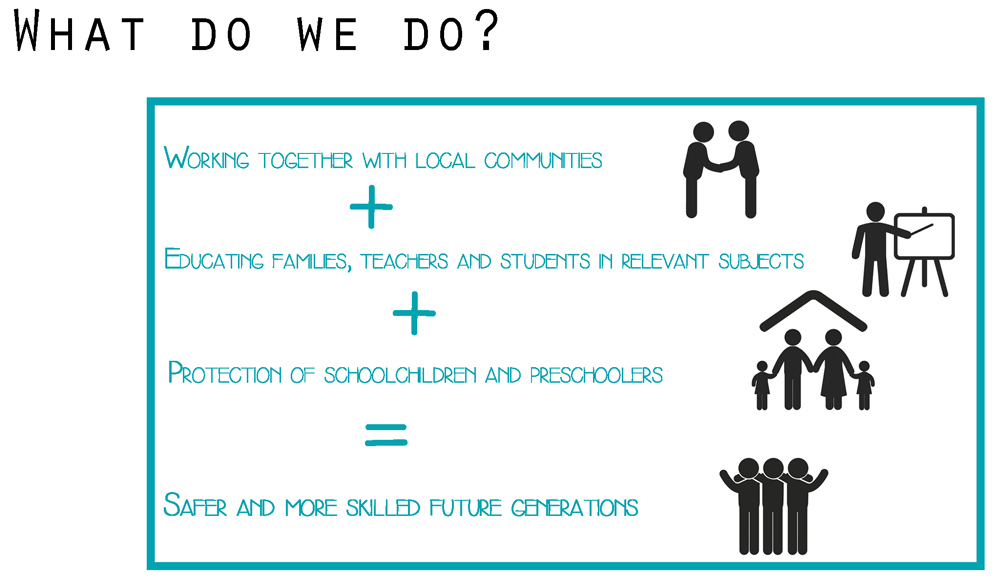 ---
How we do it
Education
Building school facilities;
Access to water;
Specialised community training;
Implementation and maintenance of libraries;
Training of community supporters and teachers;
Scholarships;
School meals;
Promotion and maintenance of school vegetable gardens;
Distribution of essential goods and school materials;
Assistance in study groups;
Leisure activities and holiday camps;
Playrooms management.
Maternal-Child Nutrition and Health
Clinical assistance in medical appointments and hospitalisation;
Food support for risk groups;
Training for health personnel and members of the communities;
Training of nutritionists and ongoing on-the job training of other health professionals;
Technical assistance to international agencies and national programmes;
Management of the implementation of mobile health units;
Training in Feminine Hygiene, Sexual and Reproductive Health;
Manufacture and distribution of reusable sanitary towels.
Humanitarian and Emergency Aid
Nutritional screening and clinical referral of cases;
Distribution of essential food supplies;
Distribution of food vouchers and housing reconstruction;
Reconstruction of school buildings and support in returning school communities to normality;
Accelerated learning responses and back to school support;
Provision of psychological support, identification and clinical case referral.
Education for Development and Global Citizenship
Awareness and discussion of global problematics through artistic projects;
Promotion of intercultural dialogue;
Promotion of a democratic culture, of peace and tolerance in the educational communities, through the discussion of divisive topics, using artistic expressions.
---
Who does it
With the help of our sponsors, we collect contributions which we send directly to our teams on the ground. Each Helpo team, together with its representatives, leaders and teachers, diagnoses the main challenges of the communities and carries out important investments that transform the lives of hundreds of people. These initiatives have a direct impact on the sponsored children and all their families and friends.
Our sponsors then receive feedback regarding our activities, learning about the impact of their contribution!
---
How can you join the cause
By making a donation or joining the Child Sponsorship Programme, you will be contributing with funds which are sent directly to our teams in the field. Helpo teams are tasked with identifying the main problems faced by each community, together with community representatives, leaders and teachers, and making major investments that transform the lives of hundreds of people.